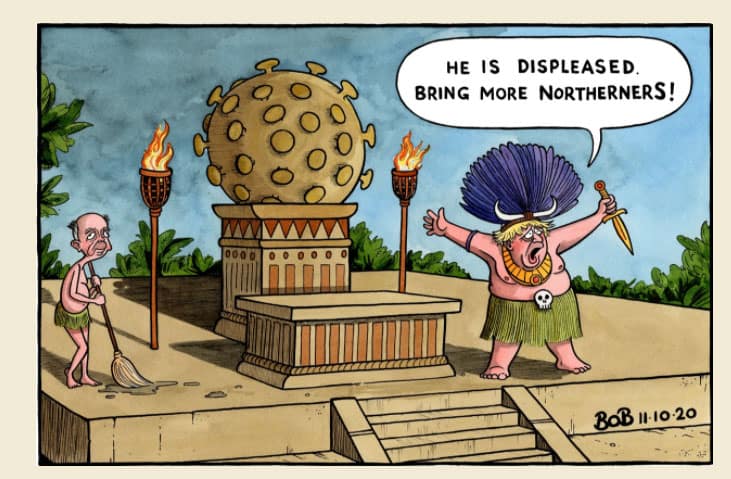 It's Normal. And We Need to Embrace It
| 3 minute read
by Ed Reid
As always these days, I must start the blog with a caveat. Time pressure this week means that what follows was largely written on Monday morning. Who knows what dystopian, draconian diktats will have been introduced by Friday…
I must also start with an admission.
I was wrong.
Way back in March I remember thinking to myself, 'Two years to develop a vaccine? Surely not. Surely, with all the world's best researchers tackling the same project…'
I was completely wrong. At which point, let me break off to discuss a cartoon.
It was in the Sunday Telegraph. A statue of the great god, Covid, has been erected. Steps lead up to a sacrificial altar. The witch doctor – Boris Johnson – dances in front of the statue. A hapless Chris Witty, clad in a loin-cloth, sweeps up the remains. "He is displeased," shouts the witch-doctor, sacrificial dagger in hand. "Bring more Northerners!"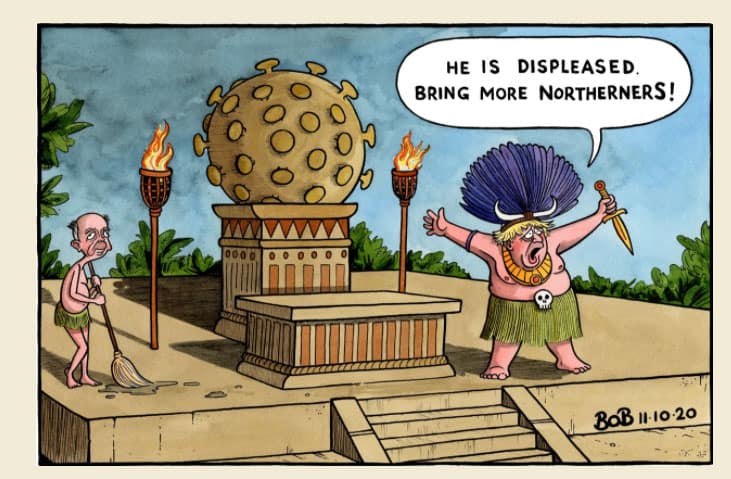 Well, some time on Monday the witch doctor will undoubtedly 'sacrifice more Northerners.' We'll see new lockdown measures introduced for large parts of the North that will a) set back the economic recovery in the region and b) cost us all money in the long run as Rishi Sunak unveils more furlough and support measures.
Is it the right approach? Increasingly, I have my doubts. But we're in sunk cost territory now. So much money – not to say vanity and ego – has been invested in the current approach that we're not going to change course.
How are business owners reacting?
Some bosses are, apparently, telling staff to 'forget the pandemic and return to their offices.' Others – notably the big tech companies – are accepting that staff will work from home permanently.
Whether we can work from home indefinitely is another matter. What we must accept, I think, is that this is no longer a temporary problem. We've all used the phrase, 'the new normal' – with its implied suggestion that one day we'll go back to the 'old normal.'
We won't. As I've written previously, Covid-19 has accelerated trends that might otherwise have taken 20 or 30 years to arrive.
We're going to see a lot more lockdowns, a lot more support schemes and – contrary to what I optimistically thought in March – a long wait for a vaccine.
This is normal. And it's time to accept it, and find a way of working that produces the best results for our businesses.
So let's embrace it – because change always brings opportunity.
If that link's not enough evidence, consider Snackcess. Three friends – all 22 – realised the jobs market would be tough when they graduated. So they launched a start-up supplying healthy snacks, that companies could send to members of their team working from home.
Health, working from home and saying 'thank you.' That simple recipe ticks a lot of boxes right now.
Whether the BBC article has done them any favours is another matter. As the Dragons would point out, it's not a hard idea to copy. But there will be a thousand 'Snackcess equivalents' being launched up and down the UK. Thousands of young entrepreneurs realising that – as the old saying goes – the best way to predict the future is to create it.
Let me finish with an article I read last week in Spiked. 'Britain is trapped by failed models' was the headline. It was about the Government's over-reliance on models as a way of fighting the pandemic. But it was written by the CEO of an investment bank – and one of the paragraphs really hit a chord with me:
The world of business shows us that companies which fail to challenge their assumptions, which cling to faulty business models, have high mortality rates. For instance, in recent years I have watched a lot of car dealerships sink more and more capital into ever-more elaborate premises, instead of moving their operations online where the market is…
Two points immediately spring to mind. First, I am absolutely certain that if the owner of a car dealership had sat round a TAB table and said, 'I'm thinking of spending a million quid on a new showroom,' one – probably more than one – of his colleagues would have said, 'Really? I bought my last car online…'
Secondly, the current situation is challenging all our business models. But that's a positive. Covid-19 will be with is for the foreseeable future, so the only option is to embrace the change it brings.
The pandemic is going to see a host of new businesses springing up. Some will compete with us: some will co-operate with us – and they'll all bring new ways of thinking.
Let's welcome them with open arms. New businesses are an opportunity for all of us: new partners to work with and new entrepreneurs to learn from. And I am absolutely determined that four or five years down the line many of these new businesses will be members of TAB UK.