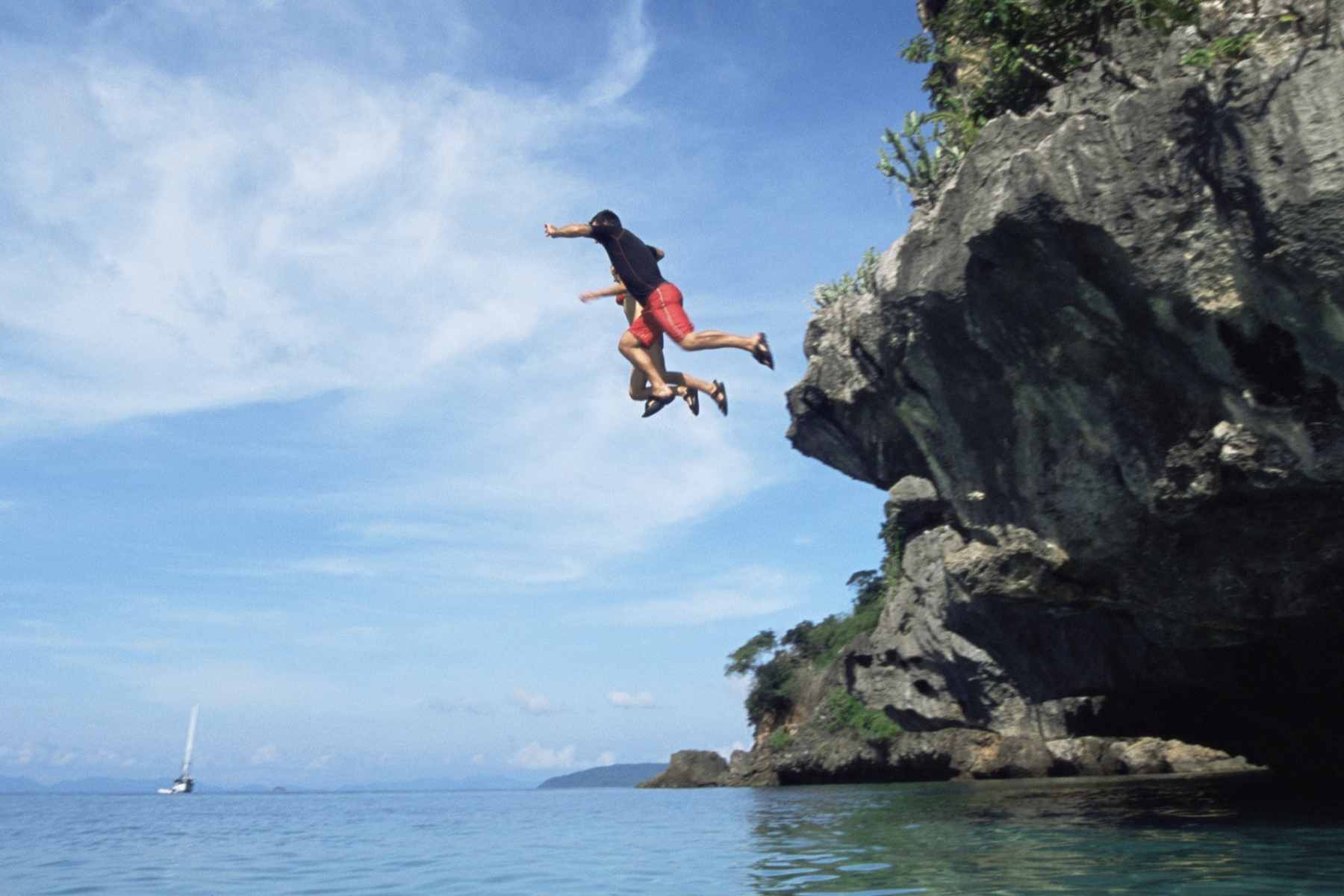 Jump when you see the rocks
Ed's Blog
| 3 minute read
by Ed Reid
We've all been there…
Sitting at a table by the beach, the sunlight sparkling and dancing across the water.
'Too early for a beer?' you ask yourself.
Way too early.
But you're on holiday…
Your beer arrives. Ice cold. Condensation running down the outside of the glass. Life doesn't get any better…
Your gaze wanders over to the beach. The sunbeds. The waves breaking gently on the shore. The sea, turquoise blue, then darker as it rapidly gets deeper. Cliffs on both sides of the bay, rising steeply.
And there. They're back…
Two local teenagers. Tanned, toned. The body you fondly imagine you still have.
Climbing the rocks to the natural platform. What is it? Fifteen feet high? Twenty?
A brief pause. They exchange a few words. And then they jump…
Five seconds. Ten seconds. The first head bobs back up. Then the second. They swim effortlessly back to the base of the cliff. Start climbing again…
That looks so good. You could do that. No, you don't know how deep it is. And the channel they're jumping into is a tad narrow.
But it just looks so damn good…
Your wife stretches her hand out. She knows you all too well. She's read your expression, "No, dear," she says, shaking her head. "Just no."
She's right. You drink your beer and carry on watching.
Besides – 15 or 20 feet. It's hardly worth the effort. After all, it's not Acapulco…
La Quebrada began with two local fishermen making a bet in the 1930s. Today, Acapulco's cliff divers are professionals, ranging in age from 15 to 70. Essentially it's simple: no ropes or safety nets, just climb the 135 feet of rocks with your bare hands, pray to the Virgin of Guadeloupe – and then jump into the narrow ravine, hitting the ocean, not the surrounding rocks.
It's said that the trick is to jump when you see the rocks – and trust that by the time you hit the water there'll be just enough ocean. But if you jump when there's plenty of ocean…
Isn't that what we do every single day?
Jump when we see the rocks?
And then climb the cliff and jump again?
Goodness knows there are more than enough rocks right now. UK inflation jumped to 9% in April and there are fears of a recession as rising prices hit spending. City AM has reported that insolvencies have quadrupled as the banks resign themselves to writing off more and more loans. The dispute over Northern Ireland is threatening a trade war with the EU. The Governor of the Bank of England has issued an 'apocalyptic' warning on food prices…
I don't need to go on. Not only are there plenty of rocks, they're sharp and jagged. And yet – as I wrote recently – the optimism among TAB members is there for everyone to see. To a man – and a woman – they are positive, upbeat and determined to build their businesses.
But what cheers me even more is that it's not just the wizened, scarred (on a good day…) battle-hardened veterans round the TAB boardroom tables. More and more young people want to start their own businesses: before the pandemic there was a 35% increase in the number of under-24s making the decision to start a business.
"To be completely honest, I didn't have any business experience – nobody in the family did – so it wasn't like I had anyone who could mentor me. But having worked in the business I knew the suppliers, I knew the mark-up and I've always been really careful with money. I did it all on a really tight budget: I had a really small shop and just built it up."
That's Emma, a florist in Leicester, describing her business's recovery from the pandemic, quoted in a recent BBC article.
"We got nominated for an award for a short film at the Birmingham Film Festival. On the train on the way back we said, 'Should we start a production company?'
That's Ben, a 22 year old videographer from Derby. And there must be hundreds of stories like Ben and Emma's up and down the country. I cannot tell you how much confidence they give me – both for the economy's eventual recovery, and for the long-term future of TAB UK.
Young entrepreneurs who, like everyone reading this blog, have the courage every single day to jump when they see the rocks.