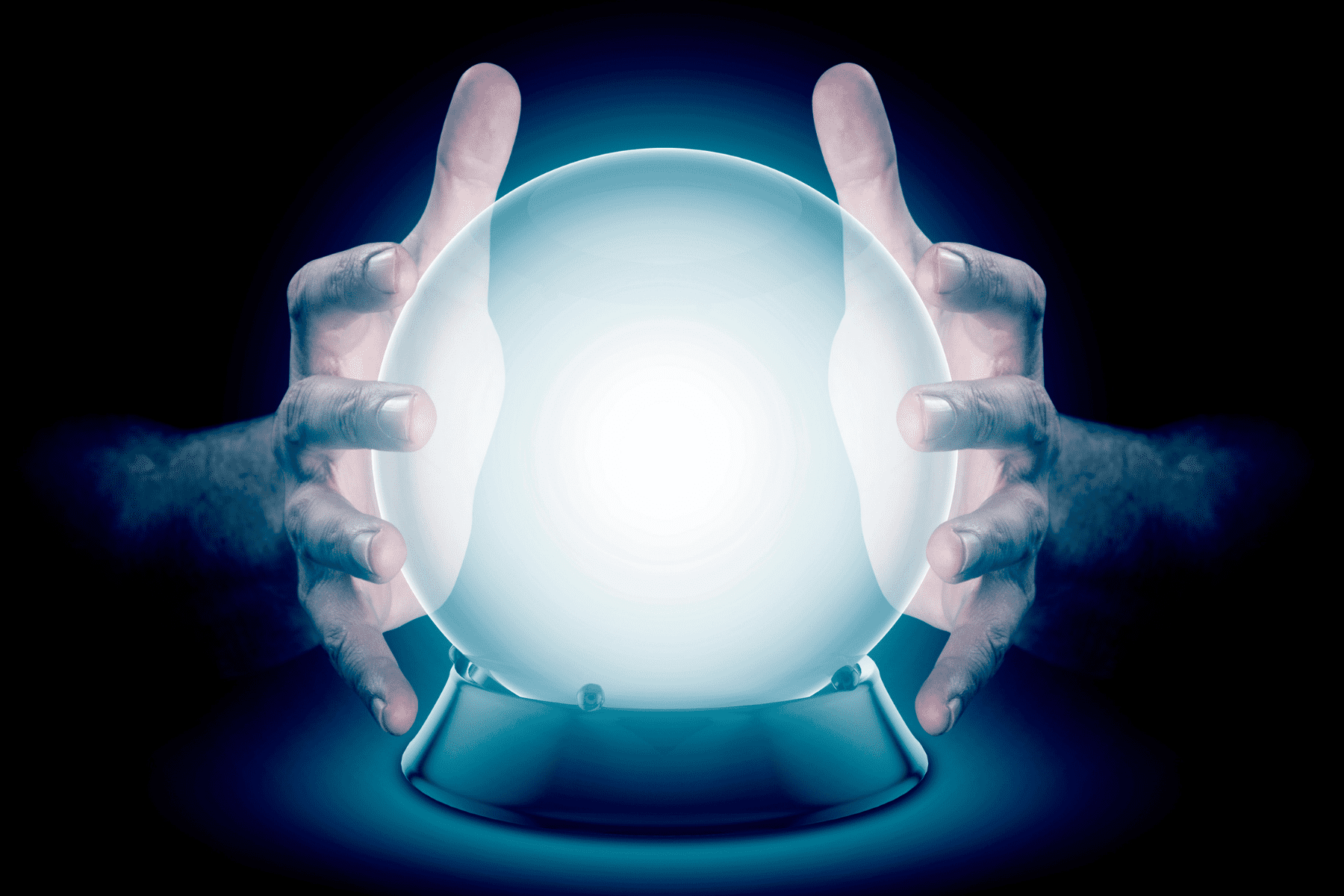 Old Ed's Crystal Ball
Ed's Blog
| 5 minute read
by Ed Reid
Good morning! That time of year again. Time to get the step-ladder out, clamber up to the loft, find the crystal ball and dust it off.
Old Moore's Almanac was started by Theophilus Moore, a teacher who ran a classical academy just outside Dublin, some 258 years ago. Old Ed's Crystal Ball is a rather more recent phenomenon, but let's see what it has to say for the coming year. And I'm going to start with a certainty…
1. TAB members will continue to be optimistic
More than that. They will continue to be the most optimistic, forward-thinking, positive bunch of people to work with in the UK. No, ifs, buts or maybes – it has been a privilege to work with you all this year. Your humour, positive outlook and sheer bloody-minded determination to continue building your businesses come what may have been an inspiration.
Right, ladies and gentlemen. Into murkier waters…
2. We'll have a new PM by this time next year
Regular readers will know that I'm no fan of Boris Johnson. But fair's fair – travel back in time 12 months and his position was nigh-on impregnable. He'd delivered an 80 seat majority, he'd given his supporters what they'd demanded on Brexit and he'd survived his own brush with Covid.
Now? The Government is mired in accusations of sleaze, Johnson himself is fighting off allegations over 'wallpapergate' – or 'cash for curtains' – and the Labour party is ahead in the polls. We will know the result of the North Shropshire by-election by the time you read this. If that is a bad result for the Conservatives – and right now the opinion polls are suggesting it will be – then the Prime Minister's position may be untenable. The extent of the rebellion on Tuesday night gave an indication of just how unhappy his backbenchers are.
Does that mean Rishi Sunak will be the next PM? Maybe not. His billionaire wife apparently claimed 'up to £100,000 in furlough cash.' Maybe Foreign Secretary Liz Truss will be the one sitting on a chair when the music stops…
3. Inflation will be the scourge of 2022
I'm starting this section – the pressures of Christmas, eh? – very early on Saturday morning. One of the headlines has US inflation rising to 6.8%, the highest for 40 years. German inflation hit 5.2% in November and the Bundesbank is openly speculating about it reaching 6%. Both the Biden administration and the incoming coalition under Olaf Scholz are committed to big public spending programmes, which are likely to stoke the inflationary fires even further.
Here in the UK the Bank of England's new chief economist says inflation could reach 5% by 'early next year.' Anyone who's done a weekly shop lately – or had their fixed rate 'reviewed' by a friendly energy supplier – will argue that 5% inflation is very comfortably already here.
With the wholesale price of gas and electricity looking set to rise even further, and one forecast seeing a 50% increase in oil prices by June/July, inflation is going to be a major worry next year. Tight control of the cash flow will be essential in the next 12 months.
4. Work/Life balance will continue to tilt towards 'life'
…And that may not be good news for SMEs. We all know how much people saw the pandemic as a chance to re-assess what they wanted from work and life. It wasn't just Millennials and Generation Z who decided that flexible working and more time with the family was more attractive than 9-to-5 and the Leeds Ring Road…
There were plenty of stories of companies meeting those needs. Allowing staff to work remotely, move on to a four day week, unlimited holidays, a week off to de-stress.
Those stories are not going away in 2022. The problem is, all the stories that are in the news come from big companies. As I wrote recently, I worry that people are entering the workforce with unrealistic expectations. If you employ 5,000 people a week off to de-stress is fine – and an open goal for the PR department. If you employ five people, it's a very different story.
So my prediction for 2022 is simple. Owners and directors of SMEs will face real challenges as what their staff want from work continues to change. I think they'll be caught in the crossfire between what big companies are doing – and what their staff see reported – and what is practicable and affordable for an SME.
5. There'll be a major cyber-attack in 2022
This is a quite astonishing statistic: cybercrime may well be the world's third-biggest economy. The scale of it is so huge that were it a country its 'GDP' would be ranked behind only the US and China.
Many of you will remember Petya and NotPetya that did so much damage in 2016 and 2017 – transport and logistics company Maersk reportedly lost $300m. This year has brought us ransomware attacks on oil and gas pipelines in the US – and, of course, hackers are to blame for the cream cheese shortage currently hitting the US…
So 2022 seems certain to bring us more major attacks as cybercrime not only becomes 'industrialised' but becomes a recognised career choice in some countries. Then we have 'state-sponsored' cyber-attacks. I've seen one doomsday forecast predicting that by 2024 there'll be a cyber-attack of such scale that the country on the receiving end will respond with a physical attack.
All we can do is protect our businesses. As we move into the New Year, there'll be no such thing as 'too much security.'
What else can we look forward to? I think we'll finally see the end of Covid and its attendant restrictions in 2022. Spanish Flu started in February 1918 and lasted two years and two months. Covid started in March 2020 – and will hopefully have the good grace to leave us alone by May. I think everyone would settle for that.
Sadly, I think we'll also see another difficult year for the national high street. Boots is up for sale, Selfridges has been sold, banks are closing branches at a rate of knots and now Amazon is threatening to open supermarkets that won't have cashiers. The pace of change is accelerating and it'll take a lot, lot more than tinkering with business rates to save our town centres.
That's the murky waters done with. I can see one more vision for 2022. As Nostradamus put it, 'A unstoppable force will arise in the Northlands…'
6. Newcastle United will be Top of the League!
Who can stop the Mighty Magpies next season? A dynamic young manager, a bottomless pot to fund new signings, passionate support…
Make no mistake, ladies and gentlemen. This time next year Newcastle will be top of the league.
What was that? Which league?
Sadly I'm almost out of space for this week – and there are three things I still need to do…
The first is to say 'thank you' for reading the blog throughout the year. Your comments – whether by e-mail, text, Facebook or over a beer – always make it worthwhile, and this year has been no exception.
Secondly, to let you know that the blog will return, rested and refreshed, on Friday 14th January. And lastly, of course, I simply want to wish everyone reading the blog a very happy Christmas and the very best that life has to offer in the coming year. Yes, 2022 will bring its challenges but we'll face them together – and I could not imagine a finer, nobler, better-looking, less sober (whoops! Typo…) group of people to face them with.
Have a great time – and may the New Year bring everything you and your family would wish for.