Are You Leading or Managing?
Derby and East Mids
Leadership skills
| 2 minute read
by Jimi Ball
By: Jimi Ball, TAB Derby & East Midlands
A key challenge for SME business owners is that of leading the business. Are you busy "Managing" the work rather than "Leading" your business? Are you too busy Doing instead of Driving, too busy acting as Chief engineer rather than Captain?
Ask yourself, what sort of vessel is your business? Is it a pleasure boat? A cross-channel ferry? Or maybe an Ocean Liner? OK, analogies can go on and on, but you get the idea? Your business is of a certain size and requires certain functions. The smaller it is the fewer "deckhands" there are available. The larger it is, more Chiefs are required.
Captaining the Ship
However, one aspect of running a business which is essential is the leadership or "Captain" role. In a smaller business the leader must often undertake several management tasks. Conversely in a larger entity there are other people employed to complete these. However, in both cases it is essential to know when and how to use your leadership qualities and skills. A person sailing a pleasure boat still needs to ensure the direction of travel is safe and accurate, for example, and on an ocean liner you wouldn't want the Captain spending all his time in the bowels of the ship tending to the Chief Engineer's duties.
It is often a misunderstood and neglected aspect of business ownership, the necessity for leadership. As Stephen Covey puts it:
"Management is a bottom-line focus: How can I best accomplish certain things? Leadership deals with the top line: What are the things I want to accomplish? In the words of both Peter Drucker and Warren Bennis, "Management is doing things right; leadership is doing the right things." Management is efficiency in climbing the ladder of success; leadership determines whether the ladder is leaning against the right wall."
Set the direction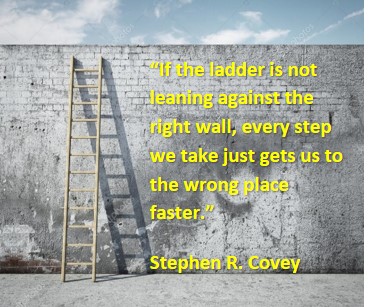 So, is your ladder leaning where you want it? Are you "doing the right things"? If you haven't considered this for a while then I would recommend standing back and looking at where your ladder is placed! Do you have a strategic plan? Where will you be in 1, 3 or 5 years? Does all your team know what they need to do as part of the plan? Strategic planning is essential and it's your task, as Leader of your business, to ensure it's in place and being implemented.
You don't have to do this alone. In fact, it's important that you don't, as the plan can become narrowly focused and with the best will in the world you can't be expected to see things from every angle. Rather, you can (and should) involve other key people both outside of and within your business.
Make a Plan!
Commit to creating a plan – it's your main task! Show leadership by involving your key people in setting the plan! Write it down so it's not just in your head! Show leadership by letting those key people implement their part of the plan. Show leadership by ensuring that accountability is a key driver in your business. That way you'll have a better chance of the plan being achieved or, put another way, of climbing to the top of the ladder and arriving exactly where you wanted to.