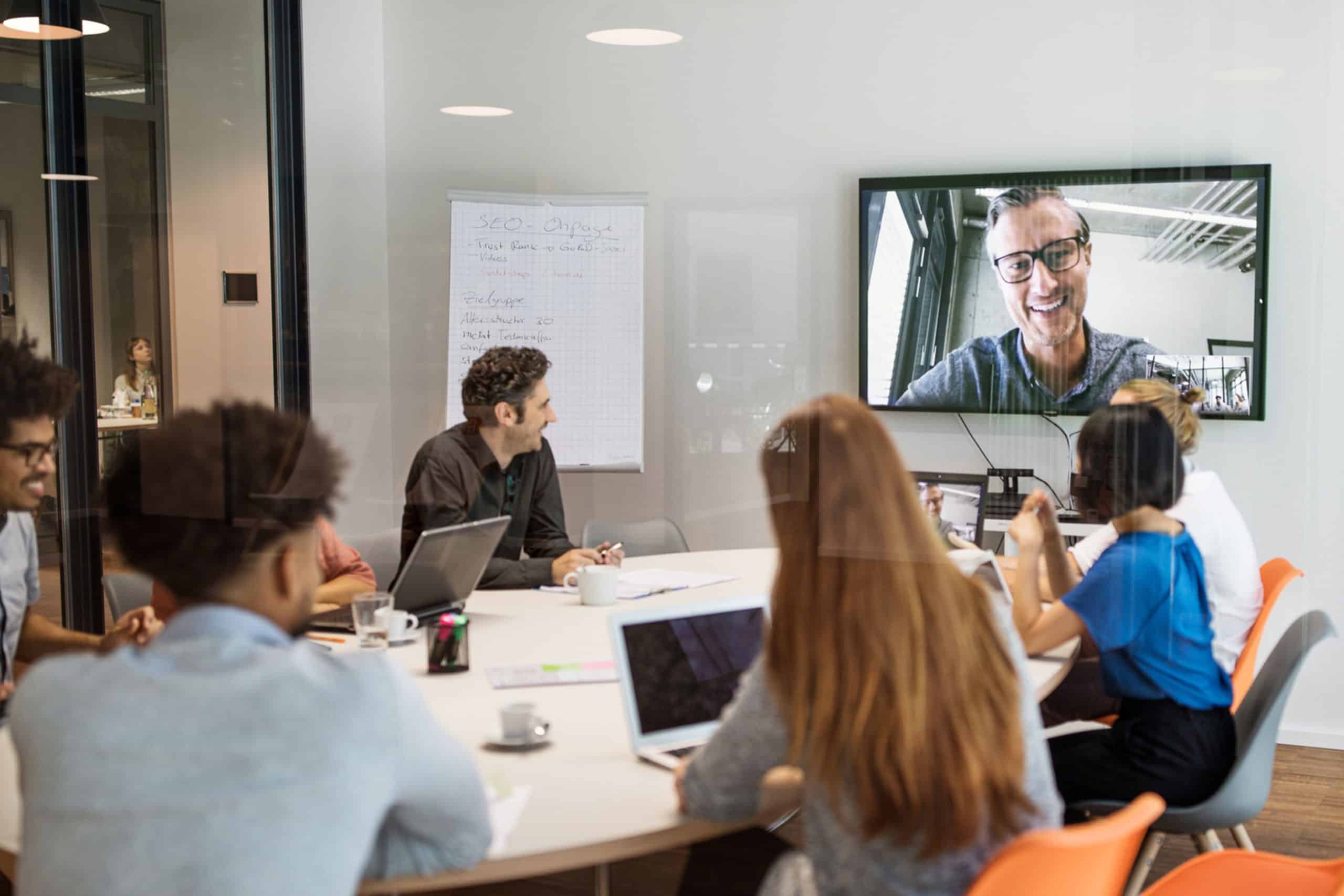 Six tips for managing a hybrid team
People management
Leadership skills
Hybrid working
| 6 minute read
by The Alternative Board (UK)
As we move into a new working world, many business owners will be managing hybrid teams.
What is a hybrid team?
A hybrid team is a group of employees made up of some working from home and others working from a central, physical office.
Some employees will be bouncing off their desk chairs to get back to the office, whilst others might prefer the remote-working lifestyle or just feel safer that way. As Ed Reid said in his blog when we did it the first time, employers are now going 'to have to think differently about what people want from their working lives.'
So, we've rallied up the troops here at TAB and here are our top six tips for business owners on how to manage a hybrid team.
1. Approach your hybrid team
COVID will continue to affect business long after the vaccine has been fully implemented. There will be challenging changes across a number of sectors, some positive & some less so.
It is very much a personal business decision based on your perception of your lockdown business performance, how your team has coped working remotely, and the practical implications of working in your office space.
So, how do you know if your team members are happy to be hybrid?
An employee (engagement) survey or similar would be a great starting point. Preferably organised by HR if you have the resource inhouse. Start with understanding how your team are coping both mentally and physically working from home.
Organise a thorough risk assessment of the office and share your practical solutions and actions to make the working environment as Covid-safe as possible.
Elliot Rich, TAB Facilitator in York
2. Communication is key
There is a huge opportunity to step back and communicate your expectation for the new few years.
Team communication has never been more important. Draw a line under what has been and demonstrate what you want to achieve for the business. Not only that, but what do individuals want to achieve for themselves?
Build time in to speak with teams and employees on a regular basis. Either with a phone call or virtual meeting.
Just remember, not everyone reacts or behaves the same when working remotely. Adjust your management style to suit, just as you would if they were in the office sat in front of you.
Most importantly, be sensitive, compassionate, and understanding that not everyone will show the true effects lockdown has had on them. You will need to tune into your softer management skills to get the best from them.
See the situation from both sides and do what is right for your business and your new, hybrid team. This way, you'll gain the best results with everyone on board.
Elliot Rich, TAB Facilitator in York
3. Technology is your friend!
Simon Banks, TAB Facilitator in Leeds South, is also the managing director of Sampson Products Ltd and explained the four simple steps he followed to create a mobile office for all his employees:
Provided everyone with a MacBook Air
Partnered with a cloud-based management accountant who has transitioned us on to a cloud based accounting system.
Partnered with an IT provider who has moved all our files on to a cloud based server.
Introduced a more flexible working time and location, based on a trust that the work would still be done.
Using and introducing collaborative technologies, like Microsoft Teams, will make everyone's lives a little easier when leading a hybrid team.
Need to use more technology for your business as a whole? Check out our tips on how to move your business online.
4. Introduce a new a flexible working policy
We've heard a lot of people using the term 'remote' worker for those in the hybrid team who aren't office based.
Jonathan Smith, TAB Facilitator in Aberdeen challenges the idea of labelling remote employees. Instead, he suggests using a phrase like flexible working. Remote can create a micro-inequity of perception that whoever isn't in the office somehow isn't in the real business.
Here are a few more words from Jonathan:
Introduce a flexible working policy if you don't have one already, to describe your organisation's approach. Stick to it. People like transparency and consistency of treatment and a policy that's adhered to helps.
A flexible working policy will also force you to be clear on what the actual requirements of roles are, so be ready: it might reveal gaps in your existing performance management processes. That's a good thing! And the time and effort required to get it right will be worth it.
You might also be interested to read about 'how to share business performance with your team.'
5. Train your team and yourself!
Train people in virtual working. There are many options out there. For instance, virtual working can easily miss the casual chat that happens when people are in the same place and time zone, so build in time for that.
Beware of a negative self-fulfilling prophecy: if you find yourself thinking or perhaps even saying that virtual working is going to be difficult, try reframing it and start thinking that you rely on it.
Consider the difference:
"For the Whizzbang product development, we've got a team of 3: Simon in the office, Elliot working from home in York, and Mags working from home in Harrogate. I recognise the challenges this will bring, but I know you can overcome them."
"For the Whizzbang product development, we've got a team of 3: Simon, Elliot and Mags. It's going to be great."
Jonathan Smith
6. Get the team together
Introduce ways to bring everyone together in a virtual environment that puts all the voices in the room at the same time, building a consensual picture of how the business is doing as well as how the teams and individuals themselves are doing.
Or get together for a meal or 'team day', now that restrictions have eased. Of course, it depends on your team members' levels of comfort. But, just because you are managing a hybrid team, doesn't mean you can't physically get together from time to time.
Bosses could use the acronym CARE for conversations with people they haven't seen in a while

What's Changed since the last time we spoke/met?
Achievements have you had?
What Requirements do you have of me?
Is there anything I need to know about your working Environment?
Jonathan Smith
Remember: Not everyone enjoys remote working
Andrew Jackson, TAB Facilitator in Harrogate has shared an experience with us that reveals to him how business owners need to be conscious that being part of a remote team isn't always liked. People are saying this is the end of the office, and that remote working is the best option for everyone. Think again.
Here are Andrew's thoughts:
When my business offered home working to a large team several years ago the majority embraced the enhanced flexibility it afforded them. Overall, we saw productivity rise and employee satisfaction surveys trended upwards.
However, we found that some were not coping as well with some wanting to return to the office. Around 15 out of 120 people were dissatisfied with home working with around another 20 having some concerns.
On further research and interviews with those less satisfied, we found the following key reasons for their dissatisfaction:
Not having a dedicated workspace
Family and other distractions
Feeling pressure to be working all the time (even though flexibility within core hours was explicit in the arrangement)
Feeling guilty if NOT working or if seen outside by colleagues (again despite the explicit flexibility within the arrangement)
Loss of Camaraderie of the office environment.
Feeling peripheral to the main business and leadership team and other functions still based in the office.
Of these issues the hardest to address was the lack of dedicated workspace, and we found that those without this soon returned to the office for most of their work.
Of the softer issues raised, the pressure to work / guilt if not working had a surprisingly heavy impact on some. Despite coaching from line managers and re-enforcing the company's expectations, and the flexibility within the system, we struggled to overcome this psychological barrier with some colleagues. This is one area we underestimated in our planning and execution.
Ultimately, the project was a success with 80 colleagues working from home for the maximum 4 days per week. Only 8 from the workforce did no home working after the initial trial. The remainder taking some flexibility when it suited them with a blended home-office approach.
The outcome?
The biggest learning was to ensure that colleagues were fully engaged during their office days, and that the leadership made no distinction between remote and office workers. They are all part of your team.
Some people really do prefer to stay at home, and others just don't. As Elliot said earlier, to manage a hybrid team, business owners and leaders need to find out what is right for their employees.
Be compassionate, listen to their needs, value them, and keep them communicating. Following these tips should set you in good stead for this new style of team management, and for your hybrid team to stay healthy and productive for the long-term.
Have you got more specific issues regarding team management? Our advisory boards exist so that business owners and leaders can seek advice over their business challenges from other entrepreneurs just like them. Find out more by finding a TAB Business coach near you.