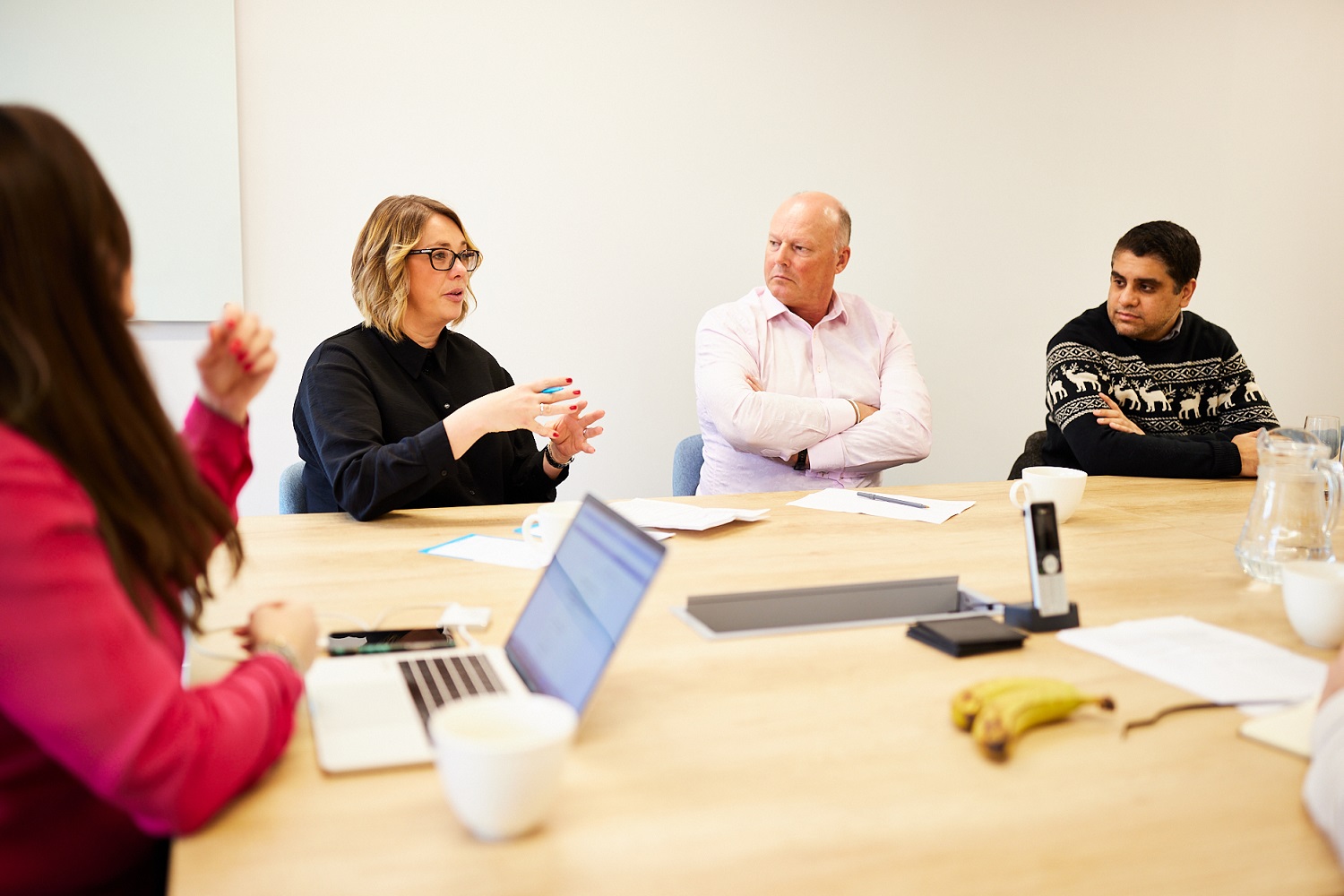 A Business Owner's Guide to the Benefits of TAB Membership
Work life balance
Time management
Strategic planning
Peer advisory boards
Business coaching
| 6 minute read
by The Alternative Board (UK)
What do business owners and leaders get from The Alternative Board?
The challenges of running and owning a business are unlike anything else. At The Alternative Board (TAB), we work with business owners of all sizes to not only increase profitability but to transform their personal lives as well.
How do we do this? Well, to help you discover how TAB works and what it could do for you, we've put together this guide. Let's get stuck in!
What does TAB Membership include?
Before we go into the benefits, we should probably explain what it is we do.
There are four core elements to a TAB Membership, and these collectively drive the value our members receive:
A TAB peer board is where you can talk openly about the challenges and opportunities you face, with other business owners, just like you. Every month, each board meeting is chaired by your local TAB facilitator and each business owner brings an challenge or opportunity they are facing to harness the collective experience of those around the table.
The process is two-way. So, you also share your knowledge, thoughts and experience to help others with their challenges too.
One-to-one Business Coaching
A monthly session with your local TAB facilitator gives you your very own business coach or mentor on speed dial. These sessions provide a real opportunity to keep you focused, accountable and on track to achieve your goals.
Our Business Builder's Blueprint
TAB Members also have access to a strategic business planning platform – the Business Builder's Blueprint. Starting with the vision for you and your business, the Blueprint helps you formulate a workable plan to help you achieve that vision.
We operate in 22 countries around the world and through our online portal 'TAB Connect', members can collaborate with one another to help with their business queries.
So that's what we do – but why do we do it? Because we believe every business owner deserves for their business to deliver for them what they want out of life. This brings us to the benefits of TAB for business owners.
Benefits:
Solve your biggest business challenges
Often, when you're too close to your biggest problems, you can't see the solutions that are obvious to someone else. It might be an issue with a director or employee, or an underperforming marketing strategy. We have heard every business challenge you could think of around our boardroom tables, and board members offer impartial, honest advice on how to solve those issues. The advice might not always be what you want to hear, but board members always have the interests of each other's businesses and lives at heart as they have no vested interest in your business.
Here's what Mike Hodge had to say about his TAB board:
Not only that, but your TAB business facilitator can also help you find solutions. Most of our facilitators are previous business owners or have worked in senior business positions for a long time. So, they can draw on their own experiences to guide you through your challenges. This is not only complemented but enhanced by the board.
Build a growing, profitable business
62.4% of TAB Members said their business' profit has increased since joining TAB.
Through the boards and the support of TAB facilitators, business owners have streamlined processes and dealt with some key barriers to profitability.
Adam Bell, a director at marketing agency in Aberdeen, saw a 400% turnover boost after joining TAB. At the start of 2020, he lost his fellow shareholder, which left him with no sounding board at a strategic level. Fast forward a year and Adam has a team of twelve and the agency has taken on three apprentices.
Adam used our Business Builder's Blueprint and said the tool helped him implement the infrastructure to scale quickly. Elements of Blueprint are also informing their funding applications as the business seeks even further growth.
This is what Adam said:
"I can't speak highly enough of The Alternative Board. It has made a huge difference to our agency. It's definitely something I would encourage business owners to think about.
We wouldn't have been able to achieve the growth we have without TAB."
Creating accountability
Many business leaders excel at meeting the day-to-day deadlines of the business.
But big-picture goals designed to stretch the business, like implementing a new digital strategy or identifying potential business partners, often get put on the back burner.
An advisory board and your TAB facilitator keep you accountable. This keeps you on track to reach your overall business goals. You will be expected to report on your progress at your next meeting, creating positive peer pressure to get the important things done. This leads to real business and personal growth.
Developing your leadership skills
Most business owners know their strengths and weaknesses as a leader. TAB helps you identify where you can improve and how you can develop the qualities of a good business leader.
Stewart Desson, of Lumina Learning, said that "having a day a month to become a better leader and strengthen my backbone to make hard decisions is time well spent."
Combating loneliness in business
It's important that business owners don't isolate themselves. We all need someone to talk to about our challenges and it's often better when it's someone who knows how we're feeling. The other leaders on advisory boards know it can be lonely at the top of a business. So, by being part of that community, and our international community through TAB Connect, business owners can help each other.
Our TAB facilitator in Bristol, Jonathan O'Shea, has shared this story about business owners he worked with during the start of the pandemic.
"This was a group of friends, they started as business owners and had become friends, who were benefiting enormously from sharing their thoughts and fears at this exceptional time."
Out of this meeting came support from the most unexpected directions.
The business that was impacted the most by lockdown still found the time to help a fellow Board member source the hand cleansers essential for their business.
It also allowed everyone to get some perspective on their situation and start putting in place tentative plans for the future, something that wouldn't have happened if they'd just been sitting at home licking their wounds.
They were so receptive to each other. It really brought home to me that this group of business owners and leaders were not suffering from the loneliness that so many business owners experience." Here are more top tips on combating loneliness in business.
Find your Work-life Balance
Are you struggling to make time for other things that you love? Are you struggling to find the right balance for you?
64.5% of TAB Members said they had better work-life balance since joining TAB.
The combination of TAB advisory boards and one-to-one coaching sessions helps our members to focus on strategic actions for their business and how to delegate other tasks they, as leaders, shouldn't be doing. Not only does this lead to improved structures and business growth, but it frees up more time for a round of golf or whatever they love doing!
Getting ready for exit
We strongly believe that it is never too late to think about exit planning. However, creating a feasible exit strategy is something that business owners often don't have time to do, they don't start it early enough or they don't believe they need to plan.
Your exit is an important part of your personal vision of success. There are many different options when it comes to exit, and it can be overwhelming. That's where TAB comes in!
The board is there to keep you accountable. To make sure that your business decisions will facilitate your exit plan. The TAB Facilitator will help you form an exit strategy and walk you through how you need to prepare the business for the next step. Essentially, whatever it is you're reaching for, TAB is the hand to hold through that process. If you need more information, read our ultimate guide to exit planning.
We hope you've found this helpful. These aren't even all the benefits TAB provides! We are a people business, and each member gets something different from TAB on a personal level. We'll leave you with the words of Asif Hussain, a TAB Member in West London:
"Running a business can get overwhelming. TAB has been invaluable: what started as a support group has now developed into treasured friends whose experiences, ideas and contributions have helped overcome many challenges and stimulated both business and personal growth. The coaching has brought my business goals into focus to paint both short and long-term targets to work towards. I can accredit my successes to the newfound balance in both my personal and business life to the inspirational culture created by TAB West London." Asif Hussain, Novus Tax